Why BUY In A Home in The Poconos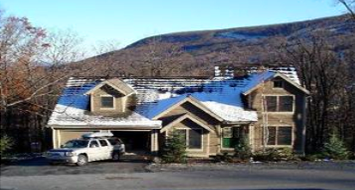 Why Buy A Home In The Poconos?
The Poconos Mountains are within 2 hours of Manhattan, Brooklyn, Parts of Long Island, Philadelphia and parts of southern PA. It is a three hour ride from South New Jersey, and most of Long Island.  So… Convenience, for one. Then, there is the myriad of activities that can be found among the mountains, rivers, lakes and streams. Outdoor activities from mountain (and road) biking, hiking, fishing, shopping, vistas, wildlife sightings, canoeing, kayaking, skiing, snow boarding, adventure parks with wild animals, tree top rope courses, zip lining, wave pools, indoor waterparks, antiquing, visiting quaint village shops, and eating a all kinds of unique restaurants. The Mountain are just ONE GIANT AMUSEMENT PARK. Here are some of the reasons people visit and buy vacation (retirement, investment and year around) homes in the Poconos Mountains of Eastern Pennsylvania: 
> 200 Lakes
> 300 communities to choose from
> 100 Beaches
> Ski slopes in or near almost every community
> Easy to get here. Less than 2 hours from New York City or Philadelphia. 3 from Baltimore and South Jersey
> Has a "Mountain /Vacation Like" feeling in every village and neighborhood.
> Under certain conditions your home could pay for its self
> Management companies can help you do this
> Skiing and water parks abound: Jack Frost Skiing, Camelback Skiing. Camelbeach summer waterpark, Blue Mountain skiing, Shawnee skiing, Skytop skiing and some neighborhoods have their own ski hills.
> Pocono Raceway, Mt Airy Casino, hundreds of restaurants, motor boating, canoeing, kayaking, paddle boating. hunting and fishing.
> Many more Poconos Activities.
Contact USA Realty – Pocono Office at 570-517-2428 for more information on Buying A Home in the community or area that is right for your family.